Lovely , everyone is Irish on St. Patrick's Day
! But how did this celebration of green come about? The origin of St. Patrick's Day was established as a religious feast day in honor of the death of St. Patrick
, Ireland's patron saint. Traditionally St. Patrick's Day, observed on March 17th, is celebrated in Ireland and in many Irish communities throughout the world. The St. Patrick's Day celebration traditionally includes an Irish mass in the morning and a celebration of traditional Irish food and dance throughout the day.
Saint Patrick's Day has come to be associated with everything Irish. To those who celebrate its intended meaning, St. Patrick's Day is a traditional day for spiritual renewal and offering prayers for missionaries worldwide. Most Irish citizens attend mass followed by an evening of traditional Irish food and drink.
IRISH TRADITIONS,There are many Irish traditions people follow to celebrate St. Patrick's Day and other Irish occasions, although not all of them are historically accurate. Some of the Irish customs
people are more familiar with include wearing green, eating Irish food and drinking beer. Actually wearing green is strictly a U.S. custom, as the color green is considered unlucky in Ireland. Green is connected to the old green flag and a time when Ireland was not free. Americans have embraced their own St. Patrick's Day tradition of drinking large amounts of Irish beer or green beer, which has no real historical Irish references at all. Another new St. Patrick's Day tradition started by school children is pinching classmates who don't wear green on St. Patrick's Day. This tradition has grown with the times, and even if you aren't a school child, beware on St. Patrick's Day if you aren't wearing green!
leprechauns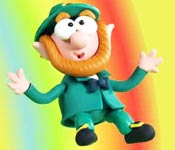 As a St. Patrick's Day symbol, the leprechaun
is a smiling, merry little elf. However, legend tells us that leprechauns are always grumpy, untrustworthy and very tricky. Leprechauns are believed to be little old men who make shoes for fairies and are usually about two feet tall. The legend says that if you catch a leprechaun, you can force them to tell you where they hid their pot of gold.
shamrocks
According to Irish legend, St. Patrick chose a three leaved clover or
shamrock
as a symbol of the church's Holy Trinity because of its three leaflets bound by a common stalk. He used the tri-leaved plant to help illustrate the idea of the holy trinity - Father, Son, and Holy Ghost. A shamrock is not a four leaf clover
, contrary to popular belief. When a four leaf clover is found it is said to represent God's grace. The good luck attached with the four leaf clover predates Christianity in Ireland back to the ancient Druid priests.
the claddagh ring
The Claddagh Ring features two cupped hands holding a heart with a crown on top. It has been the traditional wedding ring of the Irish since the 17th century. For love, the heart is worn. In friendship, the hands are worn. And, in loyalty and lasting fidelity, the crown is worn.
If the ring is worn on the right hand, with crown and heart facing out, this symbolizes that the wearer's heart is yet to be won. While dating and under love's spell it is worn with heart and crown facing inwards (still on the right hand.) Wearing the ring on the left hand, with the crown and heart facing inwards, signifies that your love has been given to one and only one, through marriage.
corned beef and cabbage
Corned beef and cabbage is the traditional meal enjoyed by many on St. Patrick's Day, but only half of it is truly Irish. Cabbage has long been a staple of the Irish diet, but it was traditionally served with Irish bacon, not corned beef. The corned beef was substituted for bacon by Irish immigrants to the Americas around the turn of the century who could not afford the real thing. They learned about the cheaper alternative from their Jewish neighbors.
(more: http://www.americangreetings.com/events/st-patricks-day.pd)
Stay With Love ; Nazlı